This biggest Polish city and country capital offers an harmonious symbiosis of its glorious past and fast progressing modernity. Jerusalem Avenue in the very city center reminds us about rich Jewish existence on those territories. The first traces of Jewish settlement are found already in XV century. From 1483 Warsaw was closed to Jews by issuing "privilegiade non tolerandis Judaeis"- not tolerating the Jews. Of course as in other cases this didn't prevent Jews from coming and settling in nearby villages and attending fairs in Warsaw center. One of those settlements was even called "New Jerusalem". From the beginning of XIX century Austrian administration allowed Jews to settle in town and first institutions and synagogues were constructed. Haskalah movement brought by immigrating German Jews was prevailing and in 1826 the School of Rabbis was opened. Austrians in they drive to control and administer everything gave an order to introduce surnames for all Jewish population. Within 1804-1807 a romantic writer Theodor Hoffmann was given the task to invent them. In this way we can enjoy today such surnames as Vogelsang, Rosenblat , Rosenthal or Kronenberg.
Rabbi Dov Ber Meisels was one of the key Jewish political leaders. He was a strong supporter of the independence uprisings in 1830, 1846 and 1963. He awaked patriotism in the Jews and was engaged in fighting for equality in their social status. There were several Orthodox synagogues, including Nozyk Synagogue used by community to this very day and "round synagogue" erected in Praga and destroyed by the Nazis. The most outstanding was the building of Great Synagogue, belonging to the progressive Jews. This synagogue was blown up by the Nazis in May 1943 at the end of Ghetto Uprising. More than three hundred houses of prayer and shtiblech were in operation at the beginning of XX century, serving the needs of 213.000 Jews in this fast growing community. In 1916 Jews were making 44% of general population of Warsaw. They made their living mainly from handcrafts, commerce and transport services.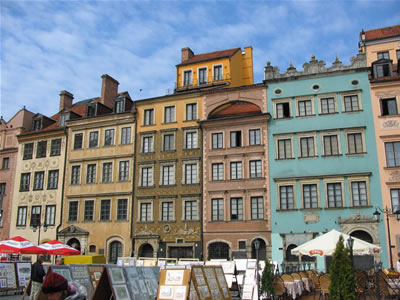 During the two decades of the inter war period, majority of the Jews lived in the north-west part of the city between Okopowa Street and Krasinski Park. At the outbreak of the Second World War, Warsaw was inhabited by 380.567 Jews. In September 1940 Germans established the Warsaw Ghetto. Within the next two years approximately 450.000 people had passed through it. Between 1940 and 1942, 100.000 people died of starvation and illness in the Warsaw Ghetto. From July to September 1942, about 300.000 Jews were transported to the German Nazi death camp in Treblinka, all passing through Umschlagplatz, freight rail station area in northern part of the city.
In spring 1943 the last remaining Jews of Warsaw were fighting the Ghetto Uprising after which the Germans completely torn down the ghetto area buildings
In late 1944, after Warsaw Uprising, Germans decided to punish this city, implementing its total annihilation. About 84% of buildings were destroyed, Warsaw was never to raise again.
Nowadays visiting Warsaw you need to look for traces of its pre war history, scattered all over this modern city. Often they are hidden in shade of communist or modern architecture. Nozyk Synagogue, buildings of the Jewish community and Jewish theater all on Twarda Street and Grzybowski Square, are now the center of Jewish life in this city. Within few hours driving and walking, you can visit the most important places connected with Warsaw's Jewish past. Jewish cemetery, Nozyk Synagogue, Heroes of the Ghetto monument, Umschlagplatz, Mila 18 are only few of many other places worth seeing during your visit.
Apart from Jewish interest places, Warsaw has much more to offer. Old City, Royal Castle, Wilanow Palace, Lazienki Park, Palace of Science and Culture, Warsaw Uprising Museum,  are only mere representation of the city tourist potential.
Jewish places worth visiting around Warsaw:
Gora Kalwaria - two synagogues and Jewish cemetery, Gerer Hasidim
Grodzisk Mazowiecki - well preserved Jewish cemetery
Grojec - synagogue and  Jewish cemetery
Kaluszyn - Jewish cemetery
Kozienice - Jewish cemetery 
Makow Mazowiecki - synagogue and  Jewish cemetery
Minsk Mazowiecki - Jewish cemetery
Mszczonow - Jewish cemetery
Nowy Dwor - well preserved Jewish cemetery
Otwock - synagogue and Jewish cemetery
Piaseczno - Jewish cemetery
Pruszkow - Jewish cemetery
Pultusk - Jewish cemetery
Radzymin - Jewish cemetery
Sochaczew - Jewish cemetery
Wyszkow - Jewish cemetery 
Zyrardow - Jewish cemetery