It is hard to describe places which  are not undergoing any definitions and certainly Kazimierz in Cracow is one of them. We can say "Jewish District" but in the same time we cannot omit two monumental gothic, catholic churches in there. We can re-tell dramatic life of local bishop Stanislaw, who is now the patron of Poland but others will start asking questions about Moses Isserles and his impact on Jewish tradition. Dilapidated croaked houses are fighting for survival with new glancing hotel facades. Calmness of  a morning is a nice contrast to a last night rich and colorful student's life. Place filled with contrasts and correlated narrations of two communities, inhabiting this small territory for centuries. Territory, which until mid XIX century used to be an island on the Vistula River.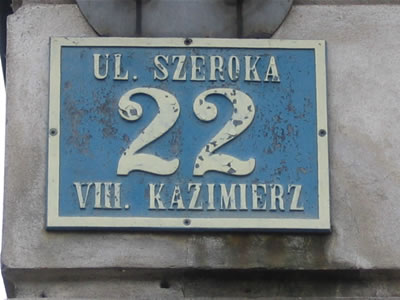 In 1335 King Kazimierz the Great  decided to locate a new city of Kazimierz, just on the outskirts of Cracow. It was held  in the local rumor that his motivation was an affair with a beautiful Jewish girl called Esterka. This was where the contrasts of Kazimierz had started. From XVI century this place was becoming home for generations of Jewish families, the oppidum judaeorum - Jewish city was created. City inhabited and shaped by  Moses Isserles - The Remuh Rabbi, the founder of rabbinical school and Halakha law interpreter or Elizer Aszkenazy rabbi, doctor and scientist. History of this area and its people allows us to study the turbulent paths of Polish-Jewish relations.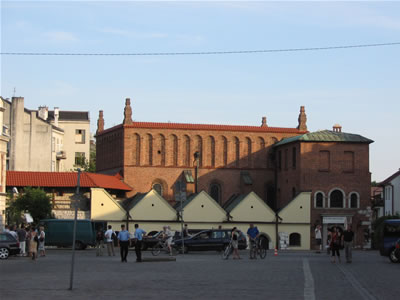 Kazimierz  has the most magnificent collection of Jewish heritage sites in Poland. There are seven synagogues with the Old Synagogue as the first one built but Remuh synagogue and cemetery as the most renowned in the world. Wandering along the streets of Kazimierz, you can experience through the eyes of your imagination the lost world of Hassids, Tzaddiks, and rabbis. The fruitful intellectual life had forged many original religious interpretations as well as the Zionist idea. Kazimierz and Jozefow in Prague are the most often visited places connected with the Jewish culture in Europe.
How do we visit Kazimierz on a half day tour?
Following a tailor-made itinerary with a certified, expert guide and at the pace of a visitor.
Suggested itinerary and places we can see:
We always start the tour on Szeroka street which for centuries was the very heart of Kazimierz.
The Stara Synagogue with remnants of city ramparts - early XV century structure with mixed gothic and renaissance architecture, now housing the Museum of Cracow Jews.

The  Poper Synagogue - XVII century private foundation, now housing cultural center.

The Remuh Synagogue - XVI century building with the adjacent  Remuh Jewish cemetery. The most renowned and the most visited synagogue in Cracow which still serves the religious needs of the local Jewish community and thousands of  Jews visiting the grave of Remuh rabbi every year.

Mikvah building

Helen Rubinstein's birth place

Monument for pre-war Cracow Jewish Community.  
From Szeroka street we get to Miodowa street which unveils the well preserved New Jewish Cemetery on one of its ends with a massive pre-burial building. Following Miodowa st. the opposite direction we come across:
The Kupa Synagogue - XVII century building founded by the Jewish community.  Impressive wall paintings and rich history of this structure make it a must stop place.

Jewish Community Center

The Temple Synagogue - the last one built on Kazmierz in XIX century. Built by and for the reformed / neology Jews. Its Byzantine and Moorish architecture represents  the spiritual richness of local Jewish community.
From the Temple synagogue it is only a few minutes walk to the Nowy Square, former Jewish square. This place was an important site of meeting and interaction of Jews and Christians. The square is still used as a local vegetable and flee market which makes the walk around the still existing Kosher slaughter house a particularly interesting one. 
Center Judaica - former Bne Emuna prayer house

Jewish stylized cafeterias

Courtyards of houses used for "Schindler's List" filming   

Yeshiva building

Hebrew business advertisements from before WW II
Just behind the corner from Nowy Square we come across:
The Izaak Jakubowicz  Synagogue - the largest synagogue in Kazmierz built in  XVII century.
From here we walk to Jozefa street through the narrow streets which for centuries was a border line between the Jewish and Christian part of Kazimierz.
Wysoka - The High Synagogue - XVI century building with a prayer hall elevated to the first floor.  Nowadays housing a Jewish book store and temporary exhibit.

Kowea Itim Tora - prayer house.
From Jozefa st. after a short walk we can reach Galicia Jewish Museum, localized in the former furniture factory. This traveler's friendly place offers exhibit of pictures of Jewish heritage sties from all over Galicia, excellent book store and even better cafeteria arranged in the hall for temporary exhibits. A perfect tour requires a perfect ending.