There are many towns and cities in Eastern Poland which were founded by noble families. Names like Potocki, Zamojski or Branicki are often connected with development of particular regions. Lancut, although it was established already in XIV century, gained a real splendor when in XVII century the Lubomirski family became its owner. They reshaped the existing castle. Moreover, this noble family is responsible for transforming the former fortress into the magnificent residential palaces. Lancut as prime example of such activities remained in their possession up until 1816. Duke Stanislaw Lubomirski granted many settlement privileges to Jews in an attempt to reconstruct the city and its population.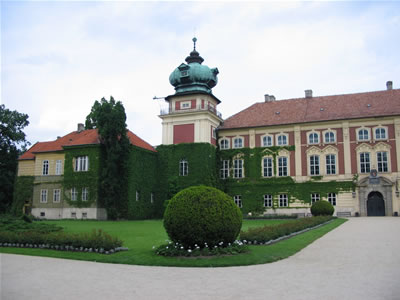 One of the privileges was allowing Jews to posses 20 buildings on Jewish street. They also gained freedom of commerce and construction. Local Jews were known for two somewhat rare professions: glaziery and wood carving. After a fire had destroyed a wooden synagogue in 1733 Stanislaw Lubomirski decided to found a new bricked synagogue building. This baroque shaped structure remains until now one of the most magnificent Jewish worship buildings in Poland. It represents eastern type of synagogues with very rich inside decorations. Polychromes represent signs of Zodiac, scenes from Torah, Jewish festivals and always overwhelm visitors with vivid colors. The small praying hall, attached to the vestibule, was used as a kahal meeting room and rabbinical court. At times it was also used by the famous Hasid tzadik Jakub Icchak Horowitz / The Seer of Lublin and his followers as well as their predecessor and even greater tzadik Elimelech of Lezajsk.
Between 1816 and 1944 Lancut was in possession of the Potocki family. They took proper care of the Lubomirski Palace complex made out of monumental palace, orangery, carriage house, stables and a synagogue. The whole complex was surrounded with a stunning park with a little romantic castle, picturesque bridges and rose gardens. During WW II, in 1939, German Nazis set the synagogue on fire but thanks to influences and pleas of Alfred Potocki the fire was extinguished.
Today the whole complex of palace, orangery, carriage house and gardens is made available to visitors.