The foundation of the town dates for 1317.  Jewish residents started to settle down as early as 1336. King Kazimierz Jagielonczyk was granting many privileges to the fast growing community and soon it became equalized in its legal status  with other inhabitants. In 1568 the two communities were separated as the Jewish district obtained the privilegia de non tolerandis Christianis. This isolation lasted until mid XIX century. Lublin for centuries was known as a center of Jewish intelligentsia. The most renowned Talmudic schools and printing houses were located in the city. From 1580 to 1725 Lublin became a center of Jewish self-government in the Polish Republic. This was one of the places where Vaad Arba Aratzot conventions took place. Beginning of XVIII century brought religious conflicts. Hasidism started to blossom with the court of tzaddik Yaakov Yitzhak ha-Levi Horovitz also known as Seer of Lublin, gaining influence in the city.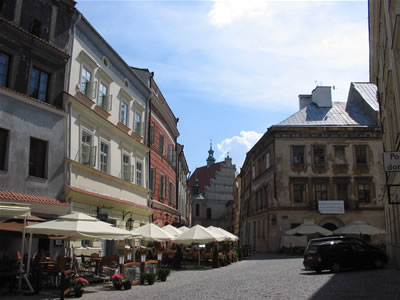 The Jewish district of Lublin was almost completely destroyed by Nazis during WWII. Nowadays, visiting the city we can admire Old and New Jewish Cemetery, Chevrat Nosim Synagogue, Grodzka Gate and Yeshivat Chachmei Lublin (The Lublin Academy of Sages).
In the city of Lublin we can also come across many buildings and sites connected with Action Reinchard. There is a villa of Odilo Globocnik and administrative structures still standing.
Majdanek
On the outskirts of Lublin German Nazis established the concentration/extermination camp in Majdanek. The Camp started to operate in autumn 1941 and was liberated by Soviet Army in summer 1944. Within 3 years of its existence approximately 360.000 people were murdered (of whom 100.000 were Jews). Nowadays on the former camp grounds there is a museum opened. Some of the authentic wooden barracks accommodate the historical exhibition. There are the wooden gas chambers and reconstructed brick crematorium. On the Museum territory there are two enormous, stone monuments raised to commemorate the victims.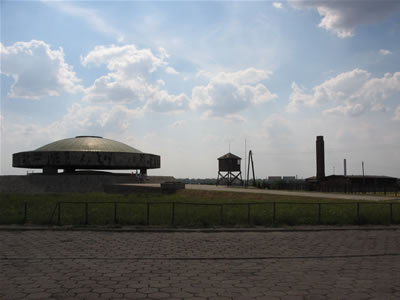 Jewish places worth visiting around Lublin:
Annopol - Jewish cemetery
Bychawa - synagogue and  Jewish cemetery
Chelm - synagogue and  Jewish cemetery
Hrubieszow - Jewish cemeteries 
Izbica - Jewish cemetery
Kazmierz Dolny - synagogue and  Jewish cemetery
Kock - Jewish cemetery
Krasnik - two synagogues and Jewish cemetery
Krasnystaw - synagogue and  Jewish cemetery
Lubartow - Jewish cemetery
Parczew - two synagogues
Piaski - Jewish cemetery
Rejowiec - Jewish cemetery
Urzedow - synagogue and  Jewish cemetery
Wlodawa - two synagogues and Jewish cemetery
Wojslawice - synagogue and two Jewish cemeteries
Zamosc - two synagogues and Jewish cemetery