During Jewish travel in Poland everyone should experience the ambience of Shtetls. Their history provide a better understanding of centuries of Jewish existence in this country. Visiting them provides also a good contrast to sightseeing large cities like Warsaw or Cracow and surely a soothing experience after city bustle. Exploring Shtetls is especially reccommended before visiting the Holocaust sites. Only by enjoying the beauty of Central European countryside can we try to understand the words of  Shalom Asch who wrote that "Weissel - the river Vistula - spoke Yiddish". The map of Poland is dotted with thousands of little towns which until now are rich in Jewish heritage sites. Our tours to discover Shtetls are always enriched with Jewish literature quotations, personal testimonies of former inhabitants and splendid example of cultural life, represented by Jewish music. It is worth to consider a visit to Shtetls during your transfers in between bigger cities in Poland. There is a lot to be seen on the travel from Warsaw to Cracow, Lublin or Lodz.
We have specialized in one day Shtetl discovery tours in Cracow, Tarnow and Kielce region. Now we offer two sightseeing itineraries, which on your request might be altered in order to encompass particular places you might be interested in. Upon request, we also arrange special tours focusing on development of synagogue architecture and art
.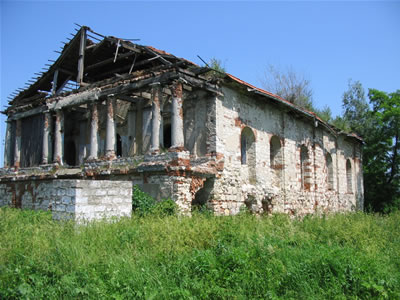 1. YIDDISHE ADVENTURE - COLOURS OF SHTETL
Cracow - Dzialoszyce - Nowy Korczyn - Pinczow - Chmielnik - Szydlow - Checiny- Cracow
This tour is led in north Cracow and south Kielce region - on the territory rich in influences of different religious minorities. Jews started to settle here as early as in XIII centaury, later in XVI centaury came different denominations connected with reformation inside the catholic church. The co-existence of those people created a unique social and cultural pattern, emanating through architecture and ambiance of those places. In XIX century it was a border land in between Russian and Austrian partition zones, which created opportunities for official trade development on the one hand and extensive smuggling on the other.
Places you will see:
Dzialoszyce - ruins of a synagogue from 1852 and beit ha-midrash, monument to Jewish inhabitants killed by the Nazis.
Nowy Korczyn - ruins of a synagogue from 1659.
Pinczow - renovated synagogue from 1557 with some preserved polychromes from XVIII centaury. Pinczow was a meeting place of Vaad Arba Aratzot (The Diet of the Four Lands).
Chmielnik - synagogue from 1638 and Chmielnik Jewish cemetery.
Szydlow - picturesque medieval town surrounded with stone ramparts. Sometimes called "Polish Carcassone". Synagogue from 1564, two gothic churches and ruins of a castle.
Checiny - synagogue from 1638 and Jewish cemetery. Ruins of a castle from 1306.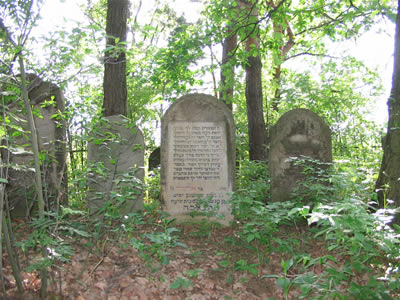 2. HASIDIC DANCE THROUGH GALICIA
Cracow - Nowy Sacz - Bobowa - Dabrowa Tarnowska - Tarnow - Zbylitowska Gora - Cracow
This tour is lead in southern part of Galicia south-east from Cracow on the foothills of the Carpathian mountains. During this travel you will have a chance to experience the great variety of Galicia Jewry. Places connected with Hassidic Sages are close by to main centers of Haskala and latter on Zionism.
Places you will see:
Nowy Sacz - strong center of Hassidism initiated by Chaim Halberstam. The only Hassidic prayer house operating until nowadays. Synagogue from 1746 with Judaic exhibition. Impressive Jewish cemetery with ohel for Halberstam family.
Bobowa - center of Bobowa Hassidim. Beautiful restored synagogue from 1756. Jewish cemetery with the Ohel of tzadik Chaim Jakub from Bobowa and tzadik Salomon Halberstam from Bobowa.
Dabrowa Tarnowska - ruin of an monumental synagogue from 1868. Small Judaic Museum organized in former shtible. Jewish cemetery.
Tarnow - before WW II almost a half of 50.000 inhabitants were Jewish. Tarnow was a very strong center of Zionism in Galicia. The are the remnants of Old Synagogue, Jewish Street and Mikvah building. Large and well preserved Jewish cemetery with monument to the Holocaust martyrs.
Zbylitowska Gora - monument to 10.000 people mainly Jews from Tarnow area murdered at this site by the German Nazis during WW II.