The city of Lodz is less then 200 years old. It is a construct of Industrial Revolution of XIX century. Thanks to its good geo-political location at that time, the city was growing fast. People belonging to four different cultural circles were very important factor in the city development. There were Prussians, Russians, Jews and Poles living next to each other and establishing very  unique and creative social tissue. Lodz in the mid XIX century became the largest textile producer in Central Europe. In that period of time there were also many Jewish investments and a new Jewish settlement movement in workers district of Baluty. The most spectacular careers were those of great industrialists like Izrael Poznanski and Markus Silberstein.
In spite of its industrial character, the city of Lodz became a very active cultural center and a place of birth of well known writers, poets and musicians. It is enough to mention Arthur Rubinstein, Yitzchak Katzenelson, Artur Szyk or Julian Tuwim.
The nearby village of Aleksandrow (Yiddish: Alexander) became well known as a center of Hasidism which gained influence in Lodz Jewish community and was radiating with its teachings all over the country.
At the outbreak of the Second World War there were 233.000 Jews in Lodz, making 33% of the city population. Third Reich's minister of propaganda Joseph Goebbels decided to organize an "exemplary, propaganda ghetto" for 200.000 people. A very controversial Jewish industrialist Chaim Rumkowski was chosen to administer the Judenrat. His strategy was total obedience and assisting the needs of Nazis in hope of survival. Since 1942 he was the one preparing the deportation list to death camps in Chelmno and Auschwitz. Eventually he himself fell victim of the Nazis, but the Lodz ghetto lasted longer than any other. It was liquidated as late as September 1944. After Second World War, Lodz had the largest Jewish population in Poland. In 1968 there were still 4000 Jews in Lodz.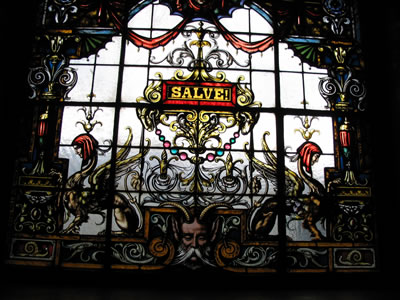 Nowadays while visiting Lodz it is worth taking a rickshaw drive down Piotrkowska Street, admire the Poznanski palaces, see the functioning synagogue of Wolf Reicher and spend some time on the New Jewish Cemetery – still the largest Jewish cemetery in Europe. The former Lodz Ghetto territory with majority of buildings preserved are also among recommended sites.
There was a new Holocaust monument opened at the site of the former Radegast rail station. Station used for massive deportations to Chelmno, Auschwitz and other Nazi camps.
Jewish places worth visiting around Lodz:
Pabianice - Jewish cemetery
Aleksandrow - Jewish cemetery, Alexander Hasidim
Piotrkow Trybunalski - two synagogues and two Jewish cemeteries 
Lask - synagogue and Jewish cemetery
Tomaszow Mazowiecki - Jewish cemetery
Inowludz - synagogue and Jewish cemetery
Zdunska Wola - Jewish cemetery
Rozprza - synagogue and Jewish cemetery
Popdebice - synagogue and Jewish cemetery
Warta - synagogue and Jewish cemetery
Opoczno - synagogue
Leczyca - synagogue